Trade-In Program Details (Limited Time, Subject to Change):
For a limited time, Peplink is offering a $400.00 trade-up discount for non-Peplink customers who trade in a competitive data-only hotspot device. Existing Peplink customers are also edible but as a thank you to loyal customers, they can keep their legacy device which will continue to function.
To receive the promotional discount follow these instructions.
You will need to respond to the order confirmation with your trade-in device's Make, Model, and Serial number. Please include a picture of the device as well. We will NOT SHIP YOUR ORDER until we receive confirmation of your trade-in device.
We will follow up with an email requesting a picture showing it has been recycled or provide a return shipping label to return the device. Qualifying devices are considered any 3G, 4G, LTE, 5G hotspot or cellular router device from any manufacturer.
Our Road Warrior & Ultimate Road Warrior bundles differentiate themselves by having more than one cellular modem providing maximum connection stability and flexibility.
The Ultimate Road Warrior 5G Bundle represents the pinnicle in mobile connectivity and mobile connectivity reliability. Powered by Pepwave's MAX BR2 dual 5G mobile router, the Ultimate Road Warrior 5G provides up to 7 simultanious internet connections for ultimate flexibilty, speed and reliability. The included USB port allows customers to add a 3rd 5G modem with Peplink's optional MAX Adapter for added flexibilty and scalability. Two Wired WAN ports allow you to further expand your setup by adding Starlink, TMobile Home Internet and countless other WAN sources. This complete mobile connectivity solution is for those who are serious about staying connected on land or sea and need the most resilient possible internet connection for business and power user activities like Zoom, Teams. video chat, streaming, and work/play activities . The Ultimate Road Warrior 5G Bundle pairs Peplinks BR2 PRO mobile router, a high performance WIFI/Cellular/GPS Roof antenna and a direct wire DC power connection kit at a discounted bundle price AC adapters are also included along with indoor cellular, Wi-Fi and GPS antennas for portable use.
If the internet is mission-critical for you, or you simply want the most reliable connection, traveling with multiple simultanious connections is key for any reliable setup. Diverse connections to the Internet allow one connection to drop without causing a loss of internet. This bundle includes access to SpeedFusion Connect, Peplink's proprietary, cloud based, internet connection bonding solution allowing multiple internet connections to act as a single, more reliable connection.
The included 11-in-1 roof antenna which will greatly improve cellular and WiFi signals to improve connectivity. Each roof antenna has 11 individual antennas (8 Cellular Antennas, 2 WiFi antennas, and 1 GPS) inside the compact roof housing. 8 cellular antennas allow the Peplink BR2 Pro utilizes the latest LTE-Advanced Pro technology, including carrier aggregation and 4x4 MIMO communication technology for each modem. Support for Band 14 (FirstNET) and Band 71 is also supported (see below). Additional information on antenna options is available below. In a hurry? You can get surfing right away before installing the roof antenna by utilizing the included interior antennas.
The Peplink BR2 Pro has 4x sim slots (2x per modem), allowing you to select which sim/carrier is in use by each of the modems. The signal from your cellular connection is then re-broadcasted wirelessly inside your RV or vehicle using the unit's built-in, high-powered 802.11ax, WIFI 6 technology. You get powerful 2ghz (long-range) and 5ghz (high speed) wireless connectivity and a wired ethernet port for your most demanding devices like VOIP phones or desktop computers/workstations. WIFI 6 technology helps with crowded marinas and conjected RV parks by managing WIFI conjestion more effectively than previous generations. The device WAN ports (2x) can also be re-assigned as a LAN port for connecting additional local devices.
The BR2 Pro has an integrated WiFi Controller capable of managing external Pepwave access points from the central management dashboard for seamless integration of external secondary access points for additional coverage or features/functionality.
Peplink's proprietary multi-wan technology allows this modem to utilize the following WAN sources simultaniously for unbreakable connetivity.
Integrated Cellular 5G modems (2x)
Optional 3rd 5G Modem with USB MAX Adapter
WAN Ethernet 1 (Starlink etc)
WAN Ethernet 2 (TMobile Home Internet/Hotspot with LAN Port)
Public WIFI 2.4Ghz (campground/marine Wi-Fi Connection 1)
Public WIFI 5Ghz

(campground/marine Wi-Fi Connection 2)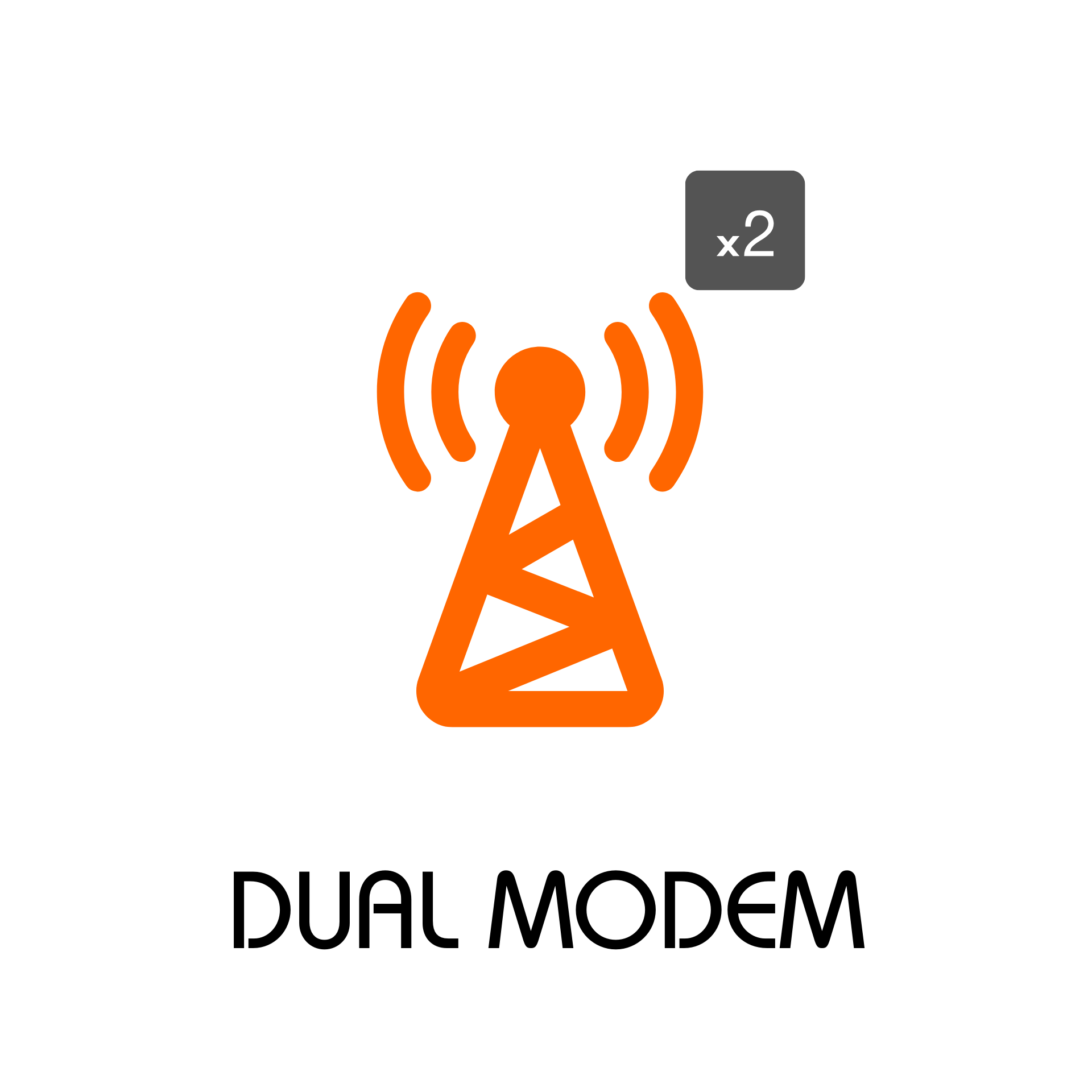 Dual Modem Device
This mobile router is equipped with two embedded cellular modems. This will allow you to utilize two cellular connections at the same time, providing advanced traffic routing and load balancing capabilities as well as near-instant failover from one provider to another. Internet traffic can be routed in a variety of ways using Peplink's proprietary Outbound Policy Management Algorithms. Dual modem devices may be capable of utilizing SpeedFusion technology, also known as "WAN bonding", which may require separate licensing. See SpeedFusion section below.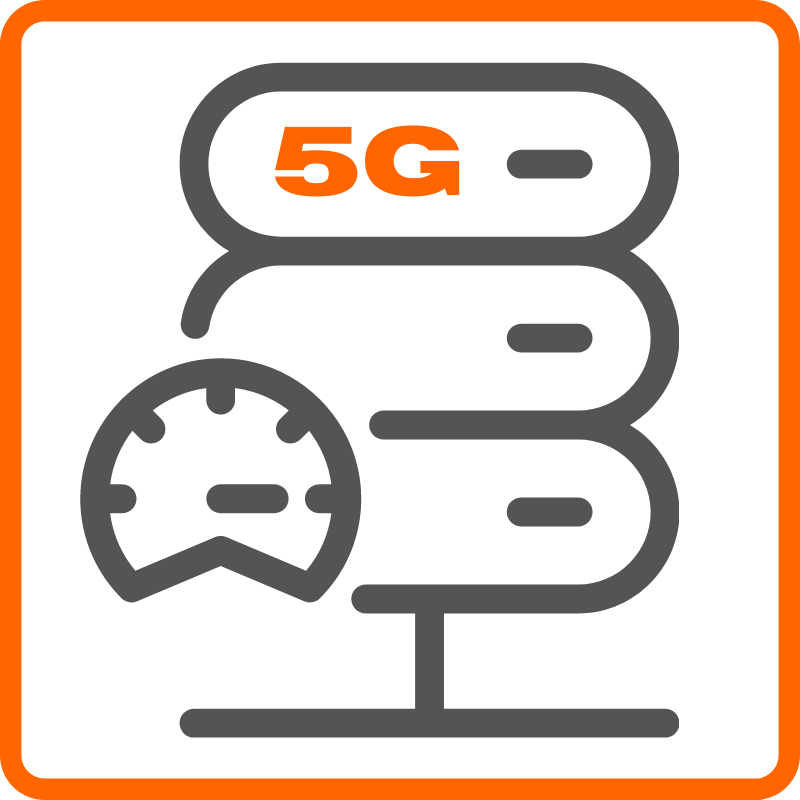 5G Modem
This mobile router is equipped with one or more 5G / Category 20 cellular modems with a maximum download speed of 4Gbps and a maximum upload speed of 700Mbps (typical speeds range from 10-350mbps depending on cellular network conditions and coverage). The category of the modem impacts the maximum upload and download speed of the device and what cellular bands or "channels" the device can connect to. Cellular bands act similarly to "channels" on television, each cellular provider broadcasts on specific bands. 5G modems include Bands specific to 5G service and also work on 4G Bands as well. 5G modems have the broadest Band support available today. This includes access to Band 14, and T-Mobile's Band 71 as well as 5G bands like n71 and n41 and more. For a complete list of bands supported, click the documentation tab for detailed specifications.
5G modems are cutting edge but that performance comes at a price as upgraded processors are needed and the technology is very new. 5G modems are very popular with customers that need the fastest possible speeds for large file downloads or uploads or who require access to secondary Bands to improve performance on a particular cellular carrier but don't mind occasional disconnects that can happen with any single modem device. For customers who require "mission-critical" internet stability, we recommend going with a dual-modem device. 5G modems require 5G data plans to connect at 5G speeds and are not compatible with all data plans. Data plans listed on this page are supported.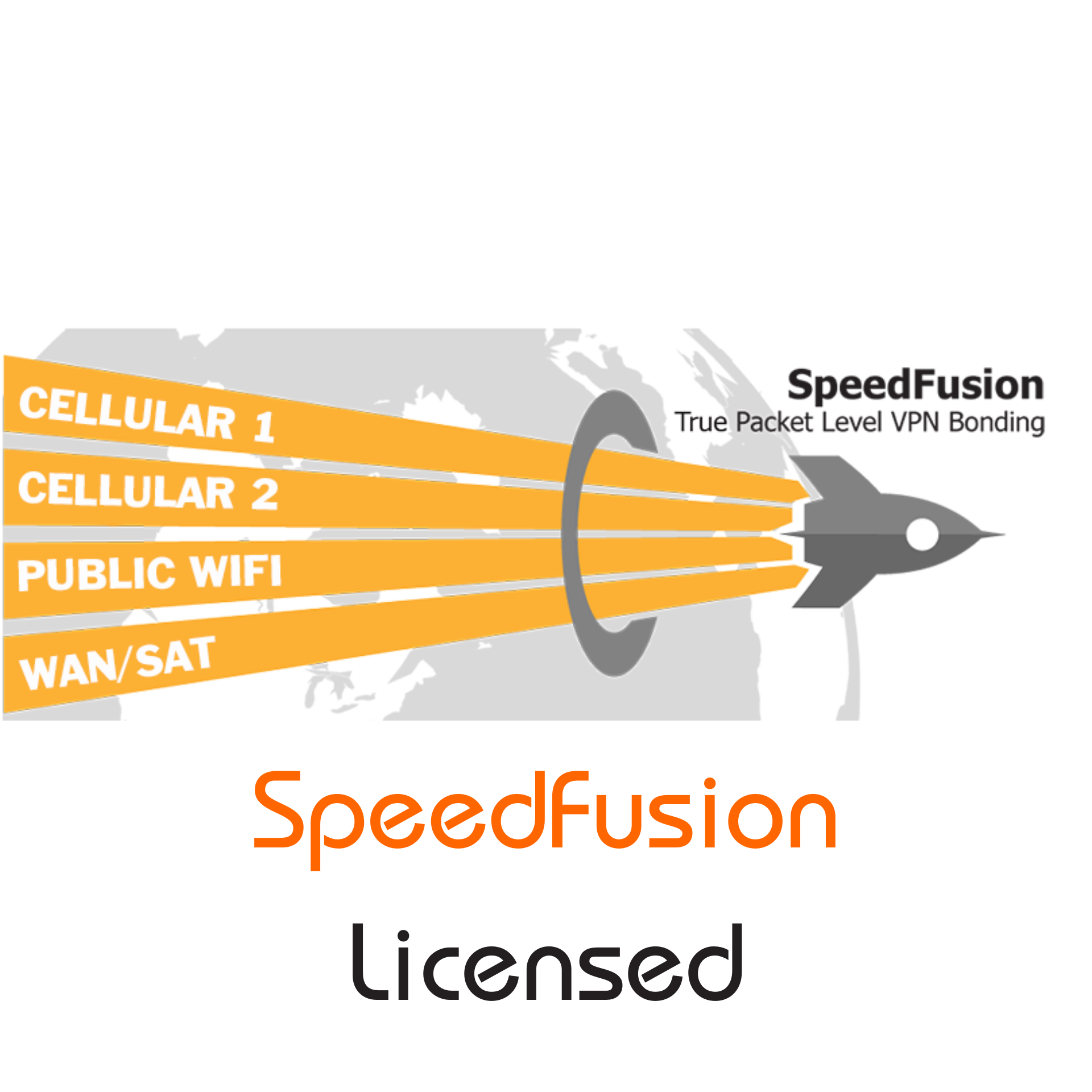 SpeedFusion Licensed
This device is licensed for SpeedFusion access. SpeedFusion is Peplink's proprietary WAN bonding solution that can bond multiple internet connections together into a single, more resilient connection for added connection reliability. SpeedFusion-capable devices create a VPN tunnel that allows multiple internet connections to act as a single connection. SpeedFusion supports WAN-Smoothing, a technology that helps to prevent packet loss which is typically the cause for unstable internet connections. In order to utilize SpeedFusion you must either host your own SpeedFusion instance at a secondary location/datacenter or use Peplink's SpeedFusion Cloud service which is available for an additional monthly subscription fee. This device includes data allotment for SpeedFusion cloud transfer at up to 100Mbps per second (amount of data will change based on the hardware). For more information on SpeedFusion and SpeedFusion Cloud, please reach out to us below.
WiFi as WAN
This device supports WiFi-As-WAN, meaning you can pick up public WiFi signals from hotspots, campgrounds, and other sources to rebroadcast them into your coach and use them as your local internet. The wireless antennas included with this modem will pick up these signals and rebroadcast them locally within your own WiFi network.
*Using public WiFi may be unreliable due to external environmental forces typically outside of customer's control and as such public WiFi is recommended to be used as a secondary backup connection.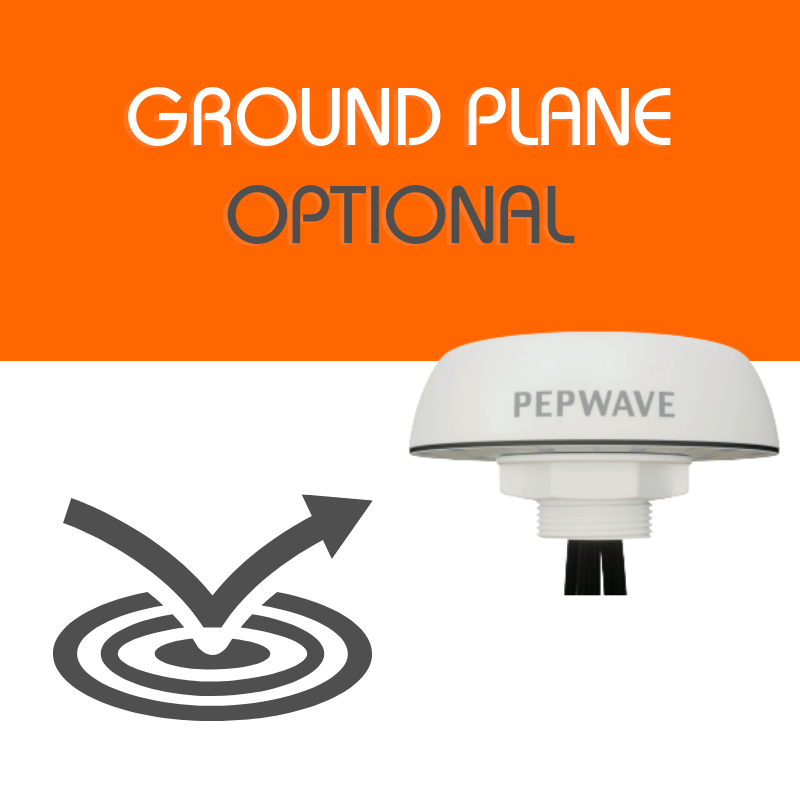 Ground Plane Optional
The antennas on this page do not require a ground plane, but adding one will typically improve performance if your installation will allow it. Ground planes are metal sheets of metal (typically aluminum or galvanized steel) that the antenna mounts on top of. For optimal performance a ground plane of a minimum of 16" in diameter is typically recommended. The ground plane does not need to be grounded or wired to the chassis ground of the vehicle, the metal sheet simply helps the cellular and WiFi signals bounce into the antenna optimizing performance. Ground planes are available in various sizes on our store including a flexible adhesive ground plane or a 16 inch aluminum ground plane. For more information on ground planes visit the Ground Plane Guide on Mobile Internet Resource Center.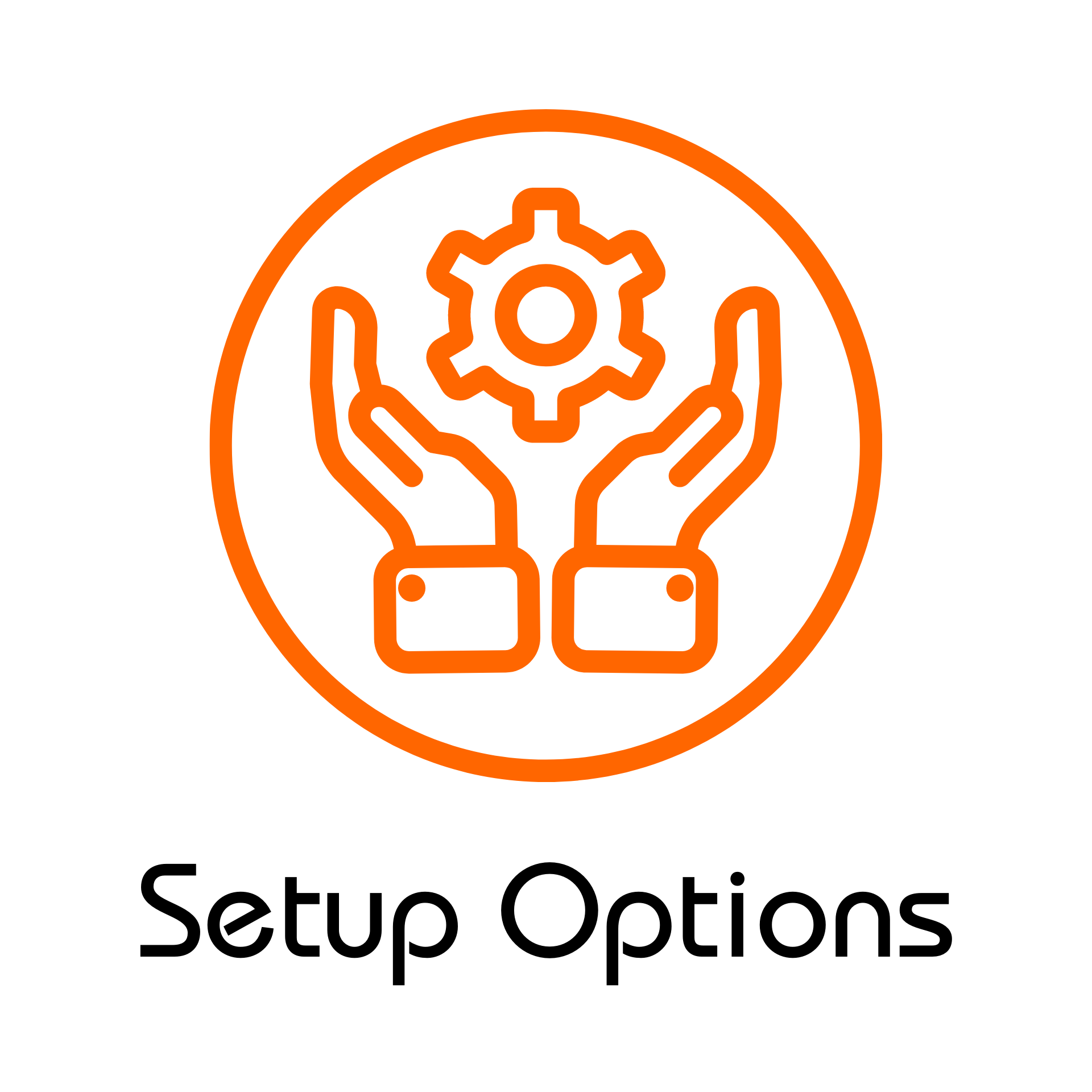 Device Pre-Configuration & Training Options
Do-It-Yourself Setup

– Once your order ships, detailed instructions will be emailed to your inbox complete with detailed installation guides for both mobile routers and roof antenna installations. Use our self-help installation guide to get from box to surfing the web in no time. What's best is the cost. Free!



Instructor Led Setup & Training Class

– Get personalized setup and training for your new mobile internet solution. Our team will help you get the unit online and will remotely configure common settings so that you can begin using the internet without having to break out the instructions manuals and learn tech talk. We will update the device to the latest secure firmware, setup your WiFi and passwords and give your WiFi a unique name of your choice. We will then verify the unit is functioning properly and setup remote access to your new mobile router through Peplink's secure Cloud Management Portal. You will then have access to live instructor led classes to review all of the basics on how to use your new mobile internet solution. All classes include a question-and-answer session to ensure all of your questions are answered and you can always return after a few weeks and attend a second class if you have more questions.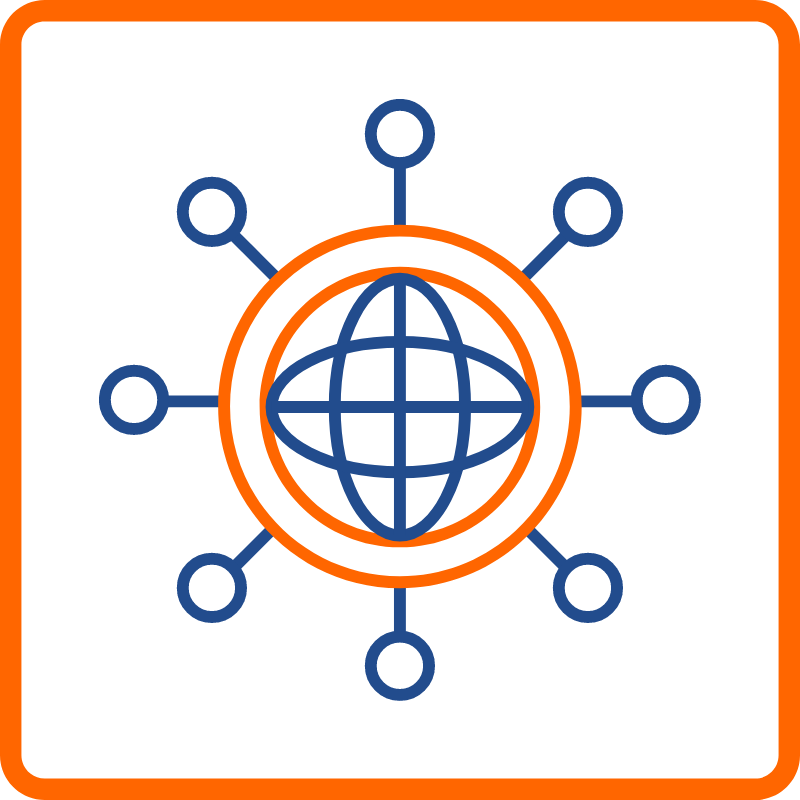 MobileMustHave Data Plans
MobileMustHave is proud to announce we now have high-speed, high GB data plans available exclusively to our customers. Traditional cellular plans available directly from the carriers have data caps that are not suitable for active travelers. We have negotiated the ability to provide high gigabyte cellular data plans that operate on the top national networks. Take the guesswork out of activating other plans that don't work or are not authorized to work on our cellular routers with data plans from MobileMustHave. Our plans are ready to activate when your ready to travel and have no contracts so keep as long as you need and cancel anytime.
FirstNet Ready
This device is FirstNet Ready! FirstNet is the nationwide public safety communications platform dedicated to America's first responders. Being built with AT&T, in public-private partnership with the FirstNet Authority, FirstNet utilizes Band-14, which is reserved for public safety but is also being marketed as available to the public for additional bandwidth capacity. In testing Band-14 has been made available during non-emergency situations to the public to provide additional bandwidth and coverages to customers who have a modem that supports FirstNet's Band-14. Not all modems that support Band-14 are "FirstNet Certified" however they typically can connect to Band-14 in most areas. Information on FirstNet certifications can be found on Specification sheets located on the Documentation Tab. Additional information about FirstNet's use and technology can be found in this article from our friends at the RV Mobile Internet Resource Center.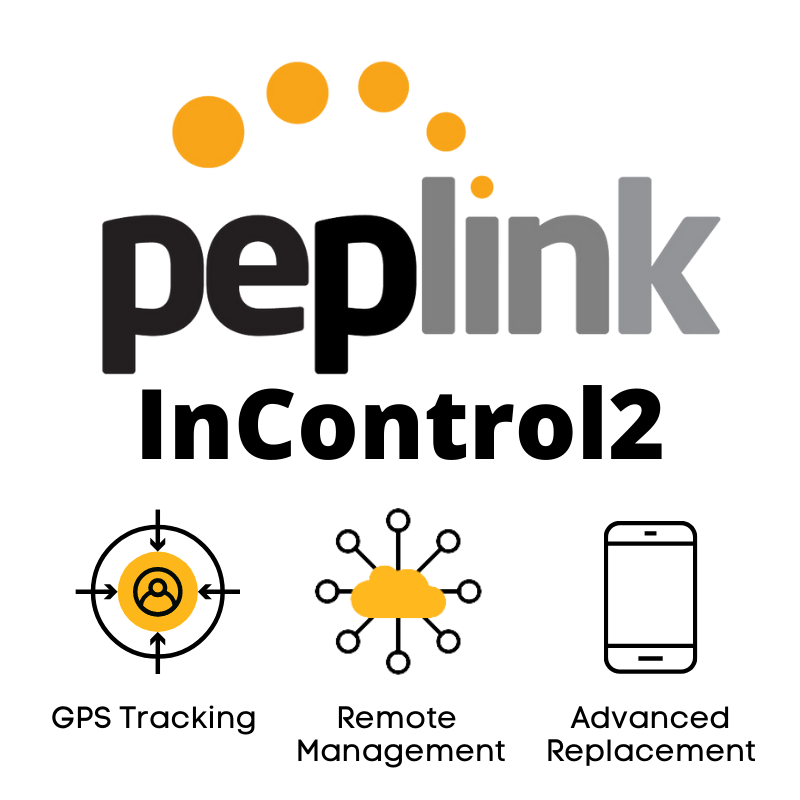 InControl2
InControl2 is Peplink's cloud-based endpoint management system. When connected to your devices, it aggregates data to generate useful reports on all aspects of your network. On a single screen, you can push configurations to any and all of your endpoints. If you need to dig deeper, you can remotely access the web admin of any device on your network.
For most MobileMustHave customers this features is not required, but it does allow your device to be accessible to you via the cloud. This can be an advantage if you would like to remotely control your device, track your vehicles location (if GPS is enabled), and allow support access to remote in (when permission is granted).
InControl2 is included with all router purchases for 1-Year and is included with EssentialCare and PrimeCare Warranty Renewal Options.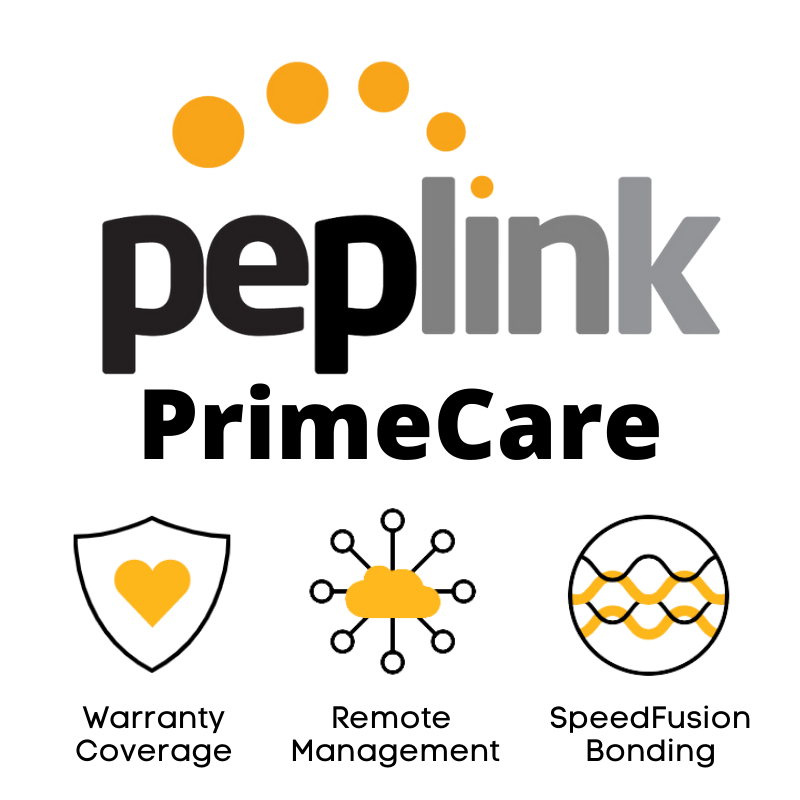 PrimeCare & PrimeCare+
This is a PrimeCare device. PrimeCare includes a factory replacement warranty, centralized cloud management, and SpeedFusion licenses for WAN Bonding functionality. PrimeCare devices include 1 Year of PrimeCare with your purchase. Update to PrimeCare+ to upgrade from business hour support with the manufacturer to 24/7 email based support with the manufacturer. PrimeCare+ customers are eligible for Advanced Hardware Replacement from the manufacturer. Once your RMA is approved a new device will be sent to you before the defective device is returned ensuring customers are not left without a device during the warranty replacement. PrimeCare+ is provided by the manufacturer, not by MobileMustHave. For additional information our partners at the Mobile Internet Resource Center have put together a detailed guide.
Licensing PrimeCare and Primecare+ beyond year one can be purchased at the time of purchase or after the fact. Basic functionality will remain if PrimeCare expires. Factory Warranty, InControl Cloud Management and SpeedFusion will stop functioning until the PrimeCare license is renewed. Warranty and license purchases are non-refundable due to manufacturer policies.
Full Specifications
Looking for the full specifications on this product? Not to worry, they are located above under the "Documentation" Tab just above by the product description.
Consultations
Talk with an Expert
Our team of mobile experts are available to help you pick the right solution. Click below to schedule a phone consultation.
Schedule a Consultation
Membership
Join & Save 10%
Access discount pricing not available to the public and save on your first purchase. Exclusive educational content and forum access. Earn 2x reward points on all purchases good towards future items. Membership can pay for itself with your first purchase.
Membership Options
Price Match Guarantee
Never pay more at MobileMustHave; we will match any advertised, authorized, in-stock, price or give you a $50.00 store credit. Terms and Conditions apply.
Education
Want to know even more?
We have partnered with the Mobile Internet Resource Center to help education and answer all your questions about mobile internet. MobileMustHave Members gain exclusive access to content and special discounts. Click below to learn more.
Learn more
Why Choose Us
Pick the Mobile Internet Experts
The MobileMustHave Team has 50+ years of combined expertise in networking and Information Technology. We are RVers too, and we put each product we sell through rigorous testing in our own RV.
Learn More
In Case you missed it!
Mobile Internet Bundles
Take the guess work out of selecting components by hand. Our bundles combine everything you need into a single package at a discounted bundle price.
Take me to them