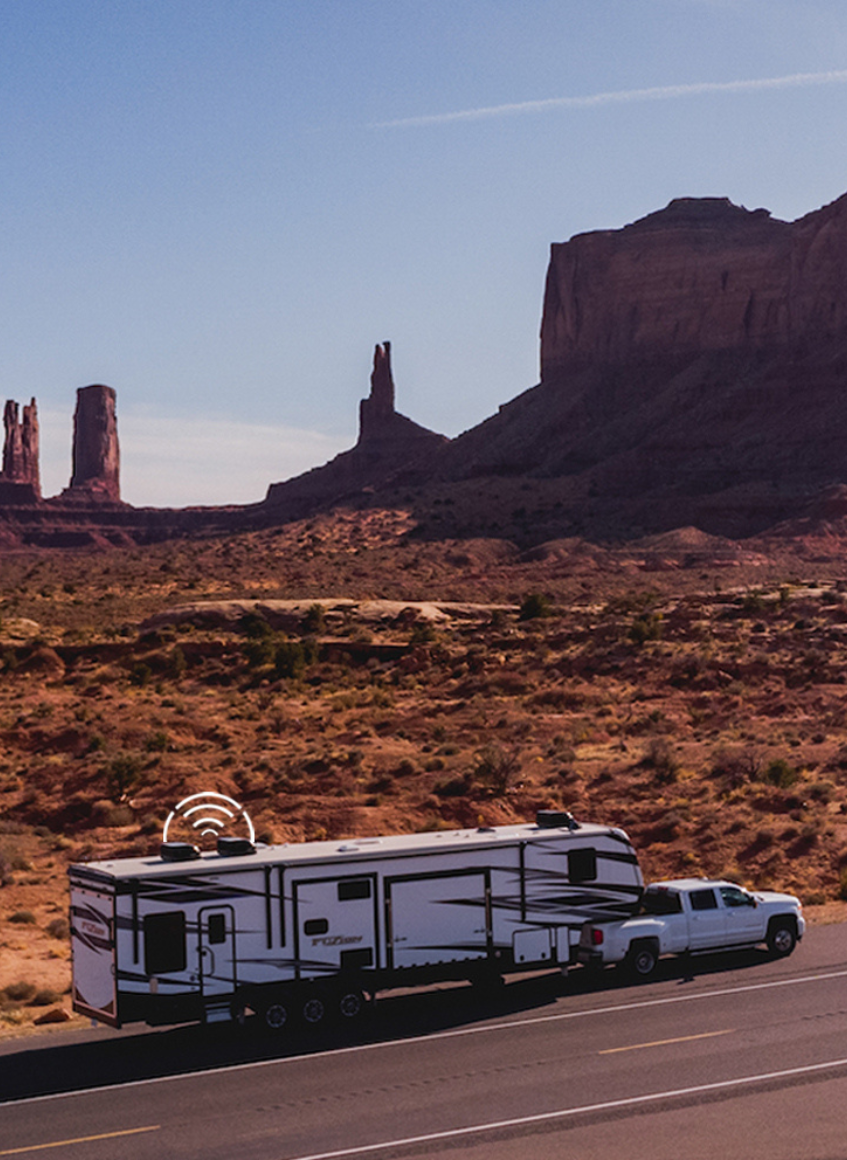 Get Connected, Stay Connected
Industry leading internet solutions for travelers
Take 5% Off Your Order with Code "RVTODAY" at Checkout
Connect anywhere you roam.
Create your own wi-fi network through multiple different internet sources and experience faster and more stable internet connection, no matter where your travels take you.
If you're just wanting to stream movies on your weekend getaway, or if you need full-time access to work on the road, we've got you covered. We can help you find the best mobile internet solution for your lifestyle.
Multiple internet connections. One device.
Peplink routers, when paired with a cellular data plan and antenna, can pick up signals from one or more cell carriers. When used alongside public WiFi options and Starlink, our routers give you the ability to swap between data streams seamlessly. Take advantage of SpeedFusion, Peplink's cloud-based bonding technology that merges all of these data streams together into one and gives you the fastest and most reliable internet possible.
Want a ready-made solution?
We've carefully curated these bundles to come with everything you need to get online and connected, all at discounted price.
Ultimate Road Warrior VR2 Bundle
The total package - this bundle is a complete mobile connectivity solution for those who are serious about staying connected on land or at sea. Perfect for work and play, this bundle can handle video chats, streaming, Zoom calls, and more.
What's included?
Peplink MAX Transit PRO Primecare Edition, a dual modem CAT-7 / CAT-12 Mobile Router
7-in-1 Roof Antenna, select between multiple options
Direct Wire DC Power Connection Kit
Purchase an optional Data Plan and get a FREE SIM card
Speed Demon 5G Internet Bundle
The pinnacle of mobile connectivity, speed and reliability. Take advantage of the latest nationwide 5G/4G LTE and WIFI 6 integrated technology to experience blazing speeds while on the move. Perfect for those who want exceptional speed and performance from a single modem device.
What's included:
Peplink MAX BR1 Pro 5G/CAT-20 Mobile Router, WiFi 6
Parsec Husky 7-in-1 5G Antenna
Direct Wire DC Power Connection Kit
Purchase an optional Data Plan and get a FREE SIM Card
Save even more!
Get 5% off with code "RVToday" and an additional 10% off when you purchase our Explore Membership.