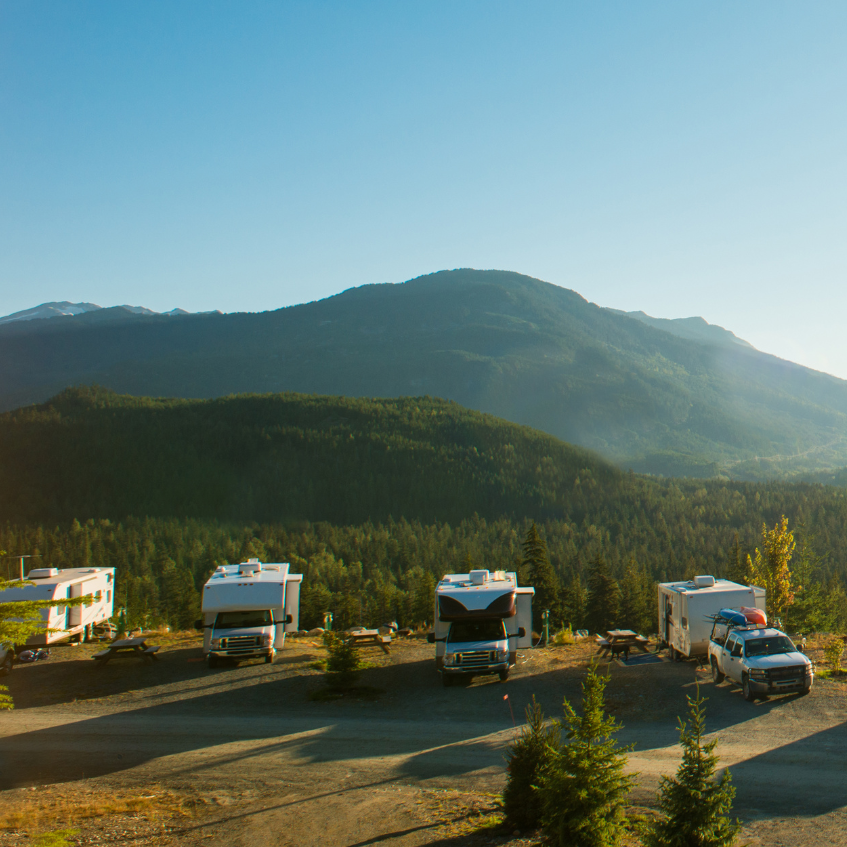 Top-of-the-Line Products for Mobile Living
Curated products for RVers that prioritize outstanding quality and performance. Get unbreakable connections, elite filtration, and more!
Everything You Need in One Package
Ultimate Road Warrior VR2 Internet Bundle
Stay reliably connected anywhere with this bundle. Curated for avid internet users who need seamless internet connection for video meetings, streaming, work, and play, this is the perfect choice when your internet is mission-critical.
SHOP NOW
Speed Demon 5G Internet Bundle
Get blazing speeds with the new and improved Speed Demon 5G internet bundle - perfectly curated for the traveler who wants exceptional speed and performance, while also future proofing as the 5G network expands.
SHOP NOW
Want to Make Your Own Solution?
Mobile Internet Routers
Your router is absolutely vital to your setup, so we've curated excellent top-of-the-line options to give you unbreakable connection everywhere you roam.
MAX BR1 Pro 5G Mobile Router
The single-modem MAX BR1 5G Mobile Router is an excellent choice for the traveler looking to stay connected on-the-go with cellular data who want a blazing fast single cellular connection that is expandable for added connectivity.
SHOP NOW
Max Transit Pro Duo Mobile Router
A high-powered solution with a better price point than the BR2 - the Transit is excellent in all facets of mobile internet with its flexibility, expandability, and stability. An excellent choice for any traveler, but especially one that needs fast internet with great reliability.
SHOP NOW
MAX BR2 Pro Dual 5G Mobile Router
The pinnacle of mobile internet routers, the BR2 Pro is a powerhouse of connectivity. With over 7 WAN connection options and two super-fast 5G modems, this router is for the traveler who is serious about their internet.
SHOP NOW
Better connection. faster internet.
Husky Pro 7-in-1 Antenna
Increase your cellular connection and speeds by adding this antenna to your setup. A good antenna is integral to a proper work-on-the-road setup - it increases your speed and reliability immediately. This 7-in-1 antenna is an excellent all around option - so much so that we feature it in many of our bundles!
Water Filtration
Filtering your water is integral to your family's safety out on the road. Campground water and other public sources may have contaminants that make the water taste bad or may even be dangerous. A water filtration system is vital to the everyday traveler. Want to learn more? Click here!
Elite Water Filtration Bundle
Everything You Need For Water Filtration
Enjoy a complete water filtration solution, including the exclusive MR3 filtration system, water hoses, splitter, water softener and pressure regulator. We've put everything you need into one simple bundle!
Water Filtration by blu tech
MR3 3-Stage Water Filtration System
Portable in-line water filtration designed to connect right between your RV and water source. With patented electroadsorptive media technology, the high-flow 0.2 micron filter removes pathogens and contaminants from your water to keep you and your family safe. Plus, increase the life of your filters and enjoy great taste with the other filters!
Power Protection
Any RV'er with a few years under their belt will tell you that campground electric wiring can be faulty a lot. Why take the risk? Surge protectors are essential to keeping your RV's electronics safe from power spikes and preventing fires caused by surges.

This smart surge protector doesn't just protect your RV - it also lets you monitor your power usage right from your phone. And if a surge does happen, the surge protection module is easily replaced without having to get a new unit! It even automatically shuts off your power when it senses dangerous power levels, and turns back on when power levels return to normal. Want to learn more? Click here!
Tire Pressure Monitoring Systems
Monitoring your tire pressure is vital for anyone living the nomadic lifestyle. Given the significant weight and load an RV carries, proper tire inflation is crucial for ensuring safe travel, optimal fuel efficiency, and tire longevity.

These TPMS provide real-time data, alerting you of any abnormalities that might lead to blowouts or uneven tire wear. With the varying conditions you might encounter on the road, having a TPMS isn't a luxury - its essential! Want to learn more? Click here!
TST TPMS with Cap Sensors
Cap-style sensors are easy to install and are a super convenient way to continuously monitor their tire pressure. Just screw onto your rubber or metal valve stem and you're good to go!
Shop Now
TST TPMS with Flow Thru Sensors
Flow-thru sensors are highly convenient, allowing you to air up your tires without removing your sensors! These are perfect for anyone wanting to travel frequently, but be aware - they only work on metal valve stems!
Shop Now
TST TPMS with Internal Sensors
Internal sensors offer the highest degree of accuracy available. Since they're inside your tire, they are immune to theft and damage from road debris, providing a secure, long-lasting solution.
SHOP NOW
Tire Inflation Kits
Ensuring your RV's tires are consistently at the correct pressure is paramount not only for safety but also for maximizing performance and extending tire life.

These tire inflation systems let you adjust and maintain optimal tire pressures and keep you from getting caught out by a flat tire. Equip your RV with this essential system and ensure safer and more efficient travels.
VIAIR 300P-RVS Portable Compressor Kit
Everything you need to air up your trailer, towable, or smaller RVs and can inflate tires up to 150PSI.
SHOP NOW
VIAIR 400P-RVS Portable Compressor Kit
Specifically designed for Class C or smaller RVs, this compressor features a 40" 90-degree rotating chuck to make filling tires while standing easier.
Shop Now
VIAIR 450P-RVS Portable Compressor Kit
Made for Class A and larger RVs, this heavy-duty compressor features a 40" 90- degree rotating chuck to make filling tires while standing easier.
Shop Now