The AP One Rugged is for users looking to either add additional wireless coverage or functionality like 5Ghz wifi to their setup, or place an access point in a different location then their mobile router. The AP One AC Mini is a powerful wireless access that can be paired with just about any mobile router but performs extremely well with Pepwave mobile routers with a built in WiFI Controller (Transit, Balance Series and select others). The AP One AC can be powered by Power Over Ethernet (PoE) meaning that all you will need to run is a single CAT5e/CAT6 wire to the access point to power the device. The AP One Rugged does not provide PoE, it can however utilize PoE for input power.
The Peplink AP One Mini will broadcast a WiFi signal up to 400 feet on average using dual-band MiMo. Their TruePower RF technology gives it predictable coverage with adaptive power response to current needs.
The access point can broadcast up to four separate networks, letting you split features and support based on the user pool. Step up your wireless management by using the provided Incontrol2 Cloud Management Platform included for one year free of charge.
The AP One AC Rugged broadcasts WiFi up to 400' on either the 2.4GHz or 5.0GHz frequency in average conditions (actual real-world WiFi range varies based on construction, interference, etc)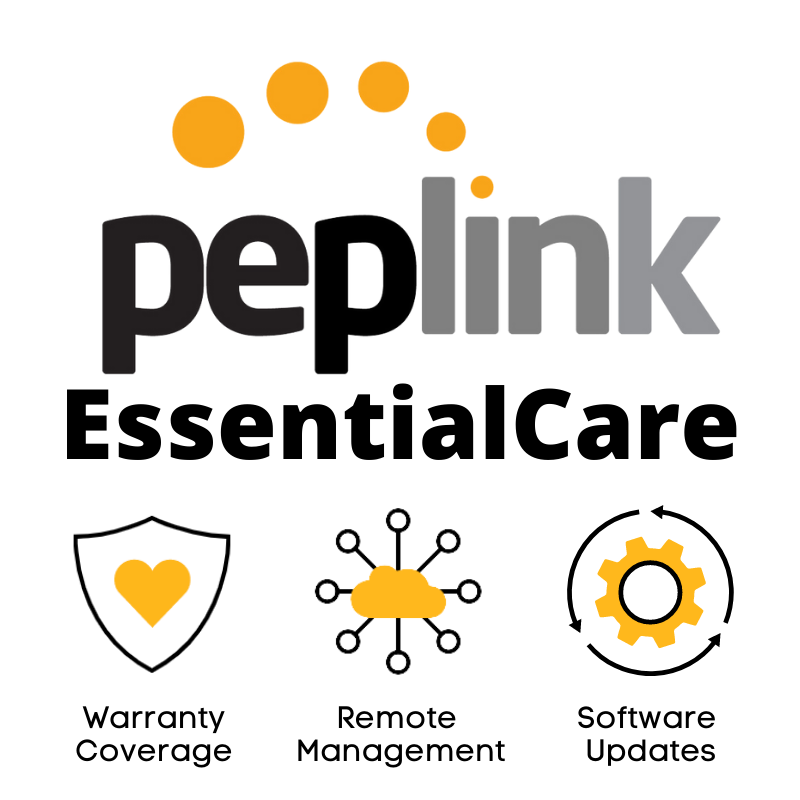 EssentialCare
Peplink EssentialCare optional extended warranty packages provide customers with Incontrol2 cloud management licensing, software updates, firmware updates, and extended factory warranty support for devices deemed defective by Peplink's warranty support department. EssentialCare is a cost effective and convenient way to extend the warranty coverage of your Peplink device for customers who do not need advanced replacement support. Note that EssentialCare cannot be purchased for devices outside of existing warranty. For warranty reinstatement options select SmartCare option. Warranty and license purchases are non-refundable due to manufacturer policies.
1-Year EssentialCare included with new Peplink device purchase
Technical Support via Support Ticket via Peplink
Firmware Upgrades
InControl2 Cloud Management
Hardware Warranty (requires device to be returned to Peplink prior to replacement being sent out, for Advanced Replacement support, select SmartCare option)
Full Specifications
Looking for the full specifications on this product? Not to worry, they are located above under the "Documentation" Tab just above by the product description.