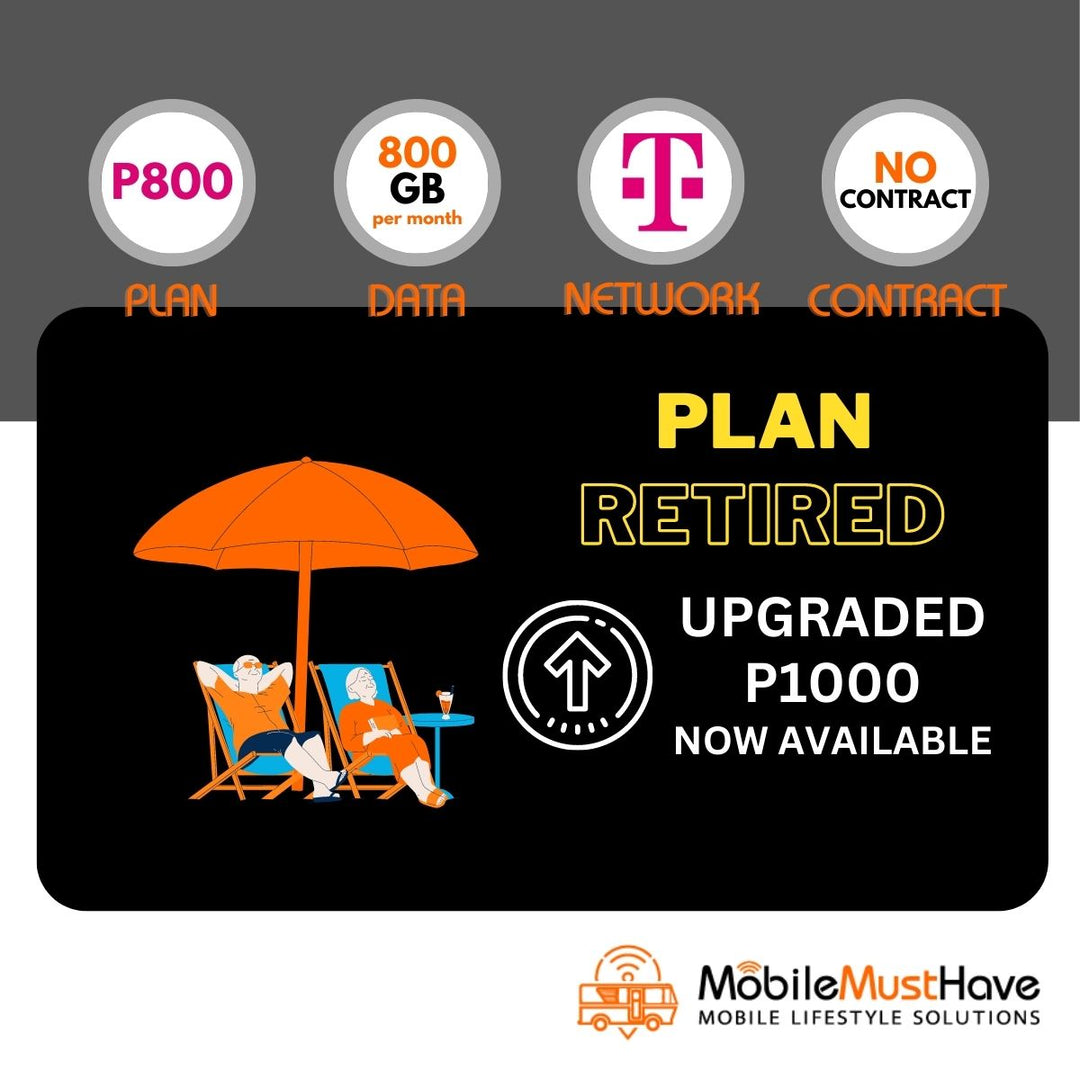 ---
THIS PLAN HAS BEEN UPGRADED TO OUR NEW P1000 PLAN. PLEASE VISIT THE NEW LISTING PAGE HERE.
LEGACY LISTING DATA
**PLAN IS NOT COMPATIBLE WITH PEPLINK CATEGORY-18 ROUTERS. WORKS WITH ALL OTHER PEPLINK MOBILE ROUTERS**
** DUE TO FRAUD ISSUES WE ARE NO LONGER ACTIVATING ANY DEVICES NOT PURCHASED FROM MOBILEMUSTHAVE.COM. YOUR IMEI WILL BE CHECKED SO PLEASE DO NOT ORDER IF YOU HAVE A DEVICE PURCHASED ELSEWHERE**
MobileMustHave.com is proud to announce that we now have the ability to offer cellular data plans directly to our customers! We have negotiated the ability to provide high gigabyte cellular data plans that operate on the nation's largest cellular networks.
If you are looking to work on the road or use a cellular data connection as your primary internet source then you want a serious data plan that won't get in your way with low data caps or throttling. Unfortunately, the four major U.S. cellular carriers no longer offer high gigabyte data plans directly but you can get 800GB of nationwide data compatible with your MobileMustHave purchased router.
We have negotiated special discounts for our customers who utilize our hardware and agree to our mobile data Terms of Service. When you purchase the data plan above you will be sent a SIM card ready for activation complete with 30 days of pre-paid data. Accept our Terms of Service and confirm your desired activation date and the sim will be activated in the timeline outlined above.
Plan Details
This plan is a hotspot plan designed for data-only devices with 800GB of monthly data. The coverage map for this plan is located here. This plan, like all true hotspot plans, is subject to deprioritization to phone traffic in congested areas. This plan, like all true hotspot plans, is subject to de-prioritization to phone traffic in congested areas. The carrier reserves the right in high congestion service areas to limit streaming bandwidth to 480p (rarely enforced). A streaming option pack is available for an additional $15.00/mo for customers who wish to increase this to 1080p streaming in congested markets. This plan is 5G compatible and has been tested in CAT-6,12,20,5G Peplink devices. This plan does NOT work with CAT-18 Peplink devices. This plan is provided by a 3rd party wholesaler contracted by MobileMustHave and administered by our customer service team directly. We provide the sim card, activation instructions, and technical support and also manage the monthly billing of this plan. This plan has no contract, additional details are below.
Key Features
No Contracts - Cancel anytime, pre-pay month to month
Automatic Bill Pay -Receive 30 days with your purchase today and a link to sign up for future months should you choose to continue service.
No Speed Caps, subject to network congestion and prioritization as with all hotspot plans
HD Streaming (carrier reserves right to limit streaming to 480p in congested areas, info under "Plan Details")
800GB usage per month
NOTE THIS IS SIM CARD ONLY - NO DEVICE INCLUDED
800GB of High-Speed Data? What's the Catch?
As a general rule, usage must be kept under 800GB per month to avoid line suspension and to protect the health of the account for all customers. Your line may operate above 800GB however we ask our customers to keep usage under 800GB or purchase an additional sim for usage above 800GB. That is enough to work full time and stream with multiple family members all using the service. We always recommend customers travel with more than one carrier, but this is an excellent option for your primary data plan if you are a serious traveler. Lines found using over 850GB will be automatically suspended.
What Happens if I Go Over?
The account is monitored for abuse and for activity not consistent with the rules outlined in our
Terms of Servic
e. Accounts found using over 850GB will be automatically suspended. Your plan will resume at the next billing cycle. If you habitually exceed 800gb you might be disconnected permanently so make sure to set your bandwidth alerts as outlined in our
Bandwidth Management How-To Article
.
Other Plans Claim they are Unlimited or Cheaper, Why?
The plans offered here are not the same as lower-cost plans offered by others that claim to be true unlimited plans. Many of those plans are unlimited, but they are designed to function in tablets or phones or are activated using loopholes with the carriers. This leaves them open to get shut down when the carriers realize they are not being used in the way they were intended. This is why those plans often are disconnected without notice. Our referral plans cost more, but they are more stable and are far less likely to have issues as long as customers follow our
Terms of Service
.
Will this Plan get Shutdown?
MobileMustHave.com
partners with reputable wholesalers who manage thousands of lines nationally and operate licensed businesses with fully staffed support teams. Plans are vetted for compatibility and tested by our internal testing team for 3-6 months before being offered to customers. As with all resale plans, there is a chance that the carrier may choose to change the device compatibility list or suspend service on a particular account or line, anyone who says differently is just not telling the truth. By partnering with reputable wholesalers who purchase data-only plans designed for use with our devices, the chance of shutdown is minimized, and MobileMustHave support teams are always here to relocate customers to an alternative plan if a problem arises.
Can I Temporarily Suspend Service?
There are no contracts or commitments with the MMH data plans from MobileMustHave. You can discontinue service at any time by simply letting us know. Pro-rated refunds for pre-paid months of service will not be issued, so make sure to cancel around the end of your monthly billing cycle to maximize the use of the plan. To re-instate service simply purchase the plan again and receive a new sim card.
If you resume service after disconnecting the monthly fee will adjust to the current recurring monthly rate listed on this page. When resuming service you must pay the initial connection fee listed here at checkout. This allows us to cover the cost of the sim and shipping and also the labor associated with connecting/disconnected lines.
How Do I Pay The Monthly Bill?
When your sim card ships you will receive an activation ticket with payment information to set up your next month of service. Payments are processed monthly through our billing portal.
What If I forget to Pay My Bill or My Card Is Declined?
If your card is declined you will receive an email alert that there is a payment issue allowing you to remedy it. If you do not remedy the issue within 48 hours your line will be disconnected and re-assigned to another customer. If your line is disconnected due to non-payment, you must purchase the plan again and wait for the new sim card to arrive. This is because the previous sim will no longer work once the line is re-assigned. Avoid issues by ensuring your auto payment remains in good standing.
Satisfaction Guaranteed
Don't like the data plan or want to return for any reason? Couldn't get it to work or no service in your area? No problem, we offer 7-day, no-questions-asked returns from your date of activation. Simply request a refund and we will process it as quickly as possible.
No Activation Fee with Hardware Purchase
Activation fees will be automatically removed at checkout with qualified router hardware purchase. The $50.00 activation fee will be removed at checkout when a Peplink router or mobile internet bundle is added to your cart. Pay only for your first month of service and cancel anytime without contracts, penalties or hidden fees.
Consultations
Talk with an Expert
Our team of mobile experts are available to help you pick the right solution. Click below to schedule a phone consultation.
Schedule a Consultation
Membership
Join & Save 10%
Access discount pricing not available to the public and save on your first purchase. Exclusive educational content and forum access. Earn 2x reward points on all purchases good towards future items. Membership can pay for itself with your first purchase.
Membership Options
Price Match Guarantee
Never pay more at MobileMustHave; we will match any advertised, authorized, in-stock, price or give you a $50.00 store credit. Terms and Conditions apply.
Education
Want to know even more?
We have partnered with the Mobile Internet Resource Center to help education and answer all your questions about mobile internet. MobileMustHave Members gain exclusive access to content and special discounts. Click below to learn more.
Learn more
Why Choose Us
Pick the Mobile Internet Experts
The MobileMustHave Team has 50+ years of combined expertise in networking and Information Technology. We are RVers too, and we put each product we sell through rigorous testing in our own RV.
Learn More
In Case you missed it!
Mobile Internet Bundles
Take the guess work out of selecting components by hand. Our bundles combine everything you need into a single package at a discounted bundle price.
Take me to them
Total 5 star reviews: 152
Total 4 star reviews: 15
Total 3 star reviews: 12
Total 2 star reviews: 0
Total 1 star reviews: 0
93%
would recommend this product
Customer-uploaded media carousel. Press left and right arrows to navigate. Press space or enter to open more details.
Slide 1 selected
Sean T.

Verified Buyer

Reviewing

P800 - 800GB/mo Cellular Data Plan

Fast speeds on 5g

When in the right location speeds have been super fast 500+mbps down and 75+mbps up.

Troy R.

Verified Buyer

Reviewing

P800 - 800GB/mo Cellular Data Plan

Great data plan!

This data option really rounds out our total mobile data needs. This is a LOT of bandwidth per month and gives us another provider. Our combo of data plans meets our needs to work full time remote and stream all tv and movies that we could ever watch.

Manuel M.

Verified Buyer

Reviewing

P800 - 800GB/mo Cellular Data Plan

P800 DATA PLAN

Very good plan and reasonable price

JOSEPH C.

Verified Buyer

Reviewing

P800 - 800GB/mo Cellular Data Plan

Almost Perfect

Coverage was great and speeds were nice. However on two occasions it dropped to down below 1 Meg. Found an updated about changing a TTL setting corrected it the first. Second time changing the TTL didn't bring it back up until after a couple of tries. Will use this again on my next trip.

Scott F.

Verified Buyer

Reviewing

P800 - 800GB/mo Cellular Data Plan

MMH Made This Soooooo Easy

After hours of trying to convince store personnel, customer support people and someone from the business unit of a major cellular carrier that I wanted a data only SIM plan, all with no success, I chatted with MMH and completed the purchase of the perfect data plan we needed in just minutes AND got a ton of support and a monthly discount. Wow. They made this so easy. On the discount alone I will recover much of my membership spend but honestly, if there wasn't a discount involved, the support alone is worth the cost of admission. Bravo.

Windell A.

Verified Buyer

Reviewing

P800 - 800GB/mo Cellular Data Plan

Verizon R300+

We have been up and running for 4 days. I work remote full time and with work and simultaneous streaming there have been no issues. I have wore out the tech support group Nicole and Easton. I really appreciate your patience and support. Very satisfied with the product and support!

David T.

Verified Buyer

Reviewing

P800 - 800GB/mo Cellular Data Plan

P800 - 800GB/mo $150/mo, Cellular Data Plan

Activation was easy, speeds are fantastic!
Reviews Loaded
Reviews Added