The Drive Reach is weBoost's most powerful, in-vehicle cell phone signal booster yet. With its increased uplink output, users get signal up to 2X farther from towers with over twice the signal strength, an increase of almost 5dB in uplink output power.
The sleek, metallic red exterior of the Drive Reach in't just for show. The unique fin design increases surface area displacing excess heat for peak performance. The custom bracket allows for under seat or in-trunk mount options. Reliable SMB connections on the booster make secure antenna installation a snap. CLA power cord features a USB-A port for rapid phone charging. With its enhanced cellular coverage, enjoy fewer dropped calls, better voice quality, faster data speeds, and extended battery life.
Drive Reach simultaneously boosts cell signal for multiple users. Easy to follow instructions ensure hassle-free setup. Set the Drive Reach into its bracket and mount, plug it into the car's power supply, place the magnetic roof antenna, and get on the road to better signal.
Drive Reach has a 2-year manufacture warranty.
Detailed specifications located on Documentation Tab.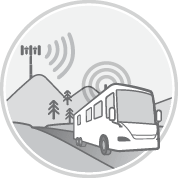 Do I Need A Cell Booster?
Cellular Boosters are a powerful addition to any mobile connectivity setup but they have their pro's and con's and are not for everyone. They originally were designed to improve cellular signal when phone calls were the primary use for cellular technology. In general cellular boosters perform best in very low cellular signal areas where you otherwise would not be able to connect. If you are a boondocker, enjoy remote camping or would prefer to "always be connected" over "fastest download speeds" then a booster can be a great addition to your connectivity arsenal. Boosters support very fast download speeds, usually around 20-30mbps (plenty for streaming, working and doing just about anything on the road) however cellular boosters are limited by the FCC on what cellular bands (channels) they can use. As such many newer technologies that improve speeds in strong signal areas are not supported by boosters.
If the fastest download speeds are a priority for you then generally a roof antenna like those included in our Internet Bundles is a better fit for more customers. Many customers who want to boost voice call quality in their RV or who want to get signal in very hard to reach places opt to add a booster to thier setup in addition to a roof antenna. Keep in mind your mobile router cannot use the booster and roof antennas at the same time so disconnecting/connecting antenna cables will be required to switch between the two solutions. Checkout the video from our friends at the RV Mobile Internet Resource Center that goes into more detail on Roof Antennas v.s Cellular Boosters.
Ground Plane Required
This antenna requires a ground plane to be installed below the antenna if the antenna is mounted on a non-metal roof. Ground planes are metal sheets of metal (typically aluminum or galvanized steel) that the antenna mounts on top of. The ground plane does not need to be grounded or wired to the chassis ground of the vehicle, the metal sheet simply helps the cellular and WiFi signals bounces into the antenna optimizing performance. Ground planes are available in various sizes on our store including a flexible adhesive ground plane or a 16 inch aluminum ground plane. For more information on ground planes visit the Ground Plane Guide on Mobile Internet Resource Center.
Consultations
Talk with an Expert
Our team of mobile experts are available to help you pick the right solution. Click below to schedule a phone consultation.
Schedule a Consultation
Membership
Join & Save 10%
Access discount pricing not available to the public and save on your first purchase. Exclusive educational content and forum access. Earn 2x reward points on all purchases good towards future items. Membership can pay for itself with your first purchase.
Membership Options
Price Match Guarantee
Never pay more at MobileMustHave; we will match any advertised, authorized, in-stock, price or give you a $50.00 store credit. Terms and Conditions apply.
Education
Want to know even more?
We have partnered with the Mobile Internet Resource Center to help education and answer all your questions about mobile internet. MobileMustHave Members gain exclusive access to content and special discounts. Click below to learn more.
Learn more
Why Choose Us
Pick the Mobile Internet Experts
The MobileMustHave Team has 50+ years of combined expertise in networking and Information Technology. We are RVers too, and we put each product we sell through rigorous testing in our own RV.
Learn More
In Case you missed it!
Mobile Internet Bundles
Take the guess work out of selecting components by hand. Our bundles combine everything you need into a single package at a discounted bundle price.
Take me to them
Customer Reviews
Write a Review
Ask a Question
03/17/2020
What a difference it makes
This booster was exactly what I needed. We are outfitting our RV for maximum connectivity since we work remotely. This booster is super impressive. I've consistently seen big improvement in signal strength and speed, especially the upload speeds. It's paired with a OTR antenna which makes a nice setup.
08/23/2019
Airstream Owner
In planning our 2 month road trip with my wife, 13 year old twins and dog in a 1964 Bambi ii Airstream, I have given a lot of thought to safety, and connectivity, as my wife and I will be working from the road, and the kids depend on connectivity for their schooling. While the Pepwave with the 5in1 antenna has been tremendous so far for internet, I took Erik's advice, and installed this in our two vehicle. It has already given me service in well known dead zones near my home. 3 bars where I had "No Service" previously. It is quite amazing that it "just works". Also amazingly easy to set up. No tools, no drilling, just a little wire management, and you are connected. While there are a lot of wacky theories and misinformation out there, Erik seems to have a really good handle on the realities of what works well, why and how. Highly recommended.