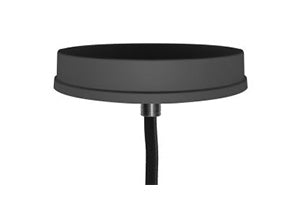 The Great Pyrenees has been designed to work with dual 5G modems that require 8x LTE antennas. With each 5G modem being a 4x4 setup, dual 5G devices now require more LTE antennas than ever before. Parsec has been leaders in the antennas space and this antenna is first to the market to work in a 8x8 configuration.
Key Benefits
8x8 Cellular
Omnidirectional
High Efficiency
Low Profile
optional pole mount available
15' included cable leads
Black color casing
This Product is Non-Returnable
This product is not returnable once opened due to health and safety reasons. The product is backed by the manufacturer warranty and any issues will be resolved by MobileMustHave and the manufacturer. Our complete Return Policy is available here.
No Ground Plane Required!
The antennas on this page do not require a ground plane, but adding one will typically improve performance if your installation will allow it. Ground planes are metal sheets of metal (typically aluminum or galvanized steel) that the antenna mounts on top of. For optimal performance a ground plane of a minimum of 16" in diameter is typically recommended. The ground plane does not need to be grounded or wired to the chassis ground of the vehicle, the metal sheet simply helps the cellular and WiFi signals bounce into the antenna optimizing performance. Ground planes are available in various sizes on our store including a flexible adhesive ground plane or a 16 inch aluminum ground plane. For more information on ground planes visit the Ground Plane Guide on Mobile Internet Resource Center.
Looking for Full Specs?
Looking for the full specifications on this product? Not to worry, they are located above under the "Documentation" Tab just above by the product description.
Consultations
Talk with an Expert
Our team of mobile experts are available to help you pick the right solution. Click below to schedule a phone consultation.
Schedule a Consultation
Membership
Join & Save 10%
Access discount pricing not available to the public and save on your first purchase. Exclusive educational content and forum access. Earn 2x reward points on all purchases good towards future items. Membership can pay for itself with your first purchase.
Membership Options
Price Match Guarantee
Never pay more at MobileMustHave; we will match any advertised, authorized, in-stock, price or give you a $50.00 store credit. Terms and Conditions apply.
Education
Want to know even more?
We have partnered with the Mobile Internet Resource Center to help education and answer all your questions about mobile internet. MobileMustHave Members gain exclusive access to content and special discounts. Click below to learn more.
Learn more
Why Choose Us
Pick the Mobile Internet Experts
The MobileMustHave Team has 50+ years of combined expertise in networking and Information Technology. We are RVers too, and we put each product we sell through rigorous testing in our own RV.
Learn More
In Case you missed it!
Mobile Internet Bundles
Take the guess work out of selecting components by hand. Our bundles combine everything you need into a single package at a discounted bundle price.
Take me to them