The MobileMark popular 942 series 7-in-1 Roof Antenna now with support for 600mhz and 5G band support. The LTMG942 is a great addition to your cellular mobile router now with 600mhz and 5G support. 600Mhz is especially beneficial to T-Mobile customers looking to use Band 71.
Inside the compact housing are 7 omni-directional antennas. 4x Cellular, 2x WiFi and 1x GPS antennas are included. MobileMustHave.com is the only seller that offers this antenna with a custom 84" (7 ft) cable which is shorter than the standard 15' offing better signal performance then the versions offered by other sellers. The antenna includes fittings for CradlePoint, Peplink/Pepwave including 4x SMA ports for cellular, 1x SMA port for GPS and 2x RP-SMA ports for WiFi.
Mobilemark antennas come equipped with neoprene gaskets and requires the locking nut to be installed for proper waterproofing. The antenna also requires a ground plane or metal roof for proper functionality. This can make installation a challenge for RV use as the antenna does not have an adhesive bottom. If you have questions on installation, please contact us.
Optional 3-meter extension cables are available should additional length be required.
Note a metal roof or ground plane is required for proper functionality. More information below.
Ground Plane Required
This antenna requires a ground plane to be installed below the antenna if the antenna is mounted on a non-metal roof. Ground planes are metal sheets of metal (typically aluminum or galvanized steel) that the antenna mounts on top of. The ground plane does not need to be grounded or wired to the chassis ground of the vehicle, the metal sheet simply helps the cellular and WiFi signals bounces into the antenna optimizing performance. Ground planes are available in various sizes on our store including a flexible adhesive ground plane or a 16 inch aluminum ground plane. For more information on ground planes visit the Ground Plane Guide on Mobile Internet Resource Center.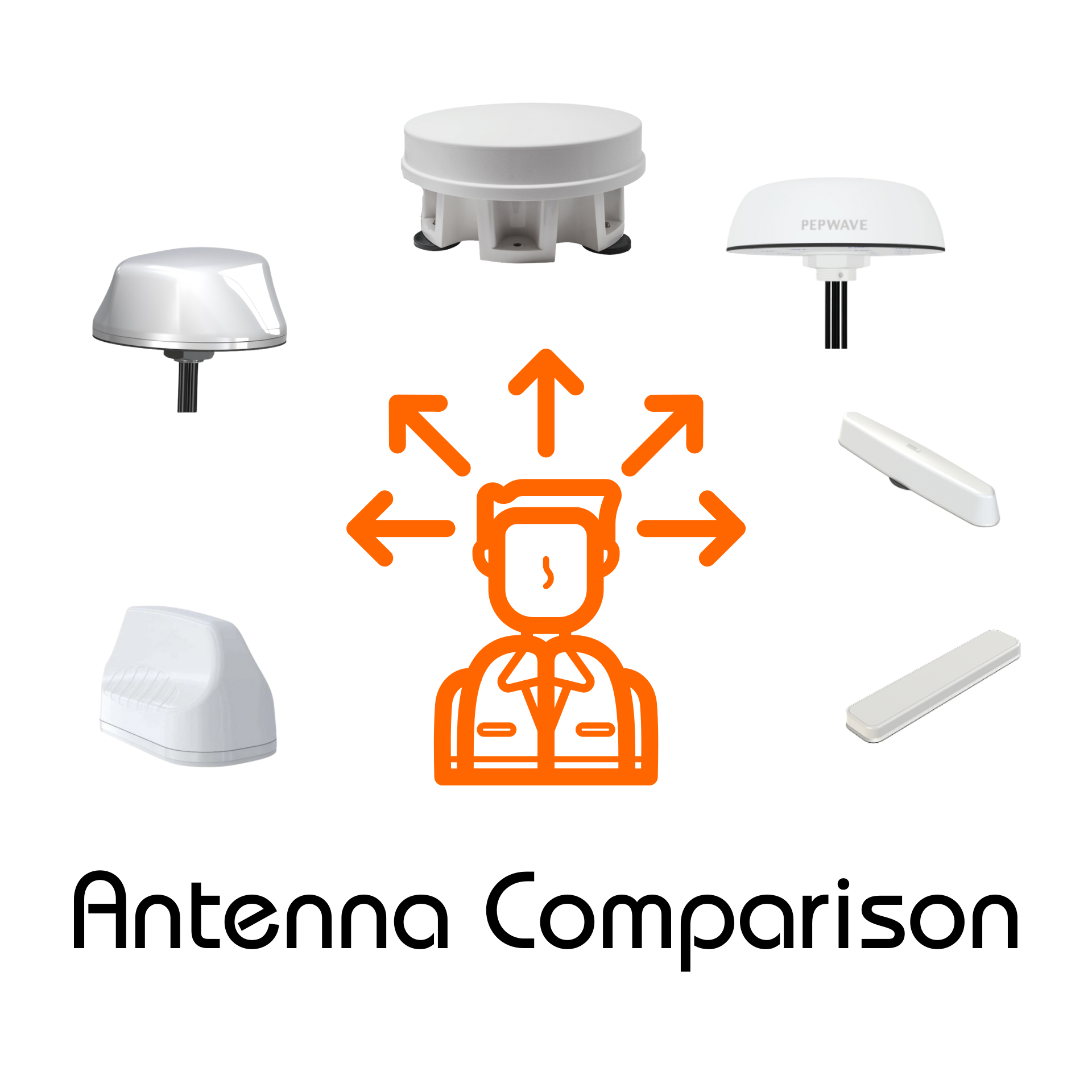 Which Roof Antenna is Right For You?
We have a variety of choices for roof antennas based on your particular installation need. In general, higher priced antennas have better performance and are future proofed for newer technology such as Nationwide 5G, making upgrades down the road easier. Higher performance antennas may be larger, so size and installation requirements is a consideration. We offer a variety of options for customers with unique installation requirements, mounting requirements, brand or budget preference. We have put together our 7-in-1 Antenna Comparison Chart to help aid in your decision as well as a video outlining some top choices. Still not sure? Start up a chat below and we will be glad to assist you.
FirstNet Ready
This device is FirstNet Ready! FirstNet is the nationwide public safety communications platform dedicated to America's first responders. Being built with AT&T, in public-private partnership with the FirstNet Authority, FirstNet utilizes Band-14, which is reserved for public safety but is also being marketed as available to the public for additional bandwidth capacity. In testing Band-14 has been made available during non-emergency situations to the public to provide additional bandwidth and coverages to customers who have a modem that supports FirstNet's Band-14. Not all modems that support Band-14 are "FirstNet Certified" however they typically can connect to Band-14 in most areas. Information on FirstNet certifications can be found on Specification sheets located on the Documentation Tab. Additional information about FirstNet's use and technology can be found in this article from our friends at the RV Mobile Internet Resource Center.
Band 71 Ready
This device supports Band 71. Band 71 is T-Mobile's rural cellular band that operates on 600mhz which provides significant increases in coverage on the T-Mobile network for customers traveling outside of urban areas. 5G ready devices that support Band 71 typically also support Band 71n which is the 5G band for T-Mobile. Note that not all devices are 5G devices so check the listing above but with or without 5G you will still achieve increased coverage on the T-Mobile network with any device that supports Band 71. For more information about Band 71, check out the Band 71 Guide from our friends at the Mobile Internet Resource Center.
Full Specifications
Looking for the full specifications on this product? Not to worry, they are located above under the "Documentation" Tab just above by the product description.
Consultations
Talk with an Expert
Our team of mobile experts are available to help you pick the right solution. Click below to schedule a phone consultation.
Schedule a Consultation
Membership
Join & Save 10%
Access discount pricing not available to the public and save on your first purchase. Exclusive educational content and forum access. Earn 2x reward points on all purchases good towards future items. Membership can pay for itself with your first purchase.
Membership Options
Price Match Guarantee
Never pay more at MobileMustHave; we will match any advertised, authorized, in-stock, price or give you a $50.00 store credit. Terms and Conditions apply.
Education
Want to know even more?
We have partnered with the Mobile Internet Resource Center to help education and answer all your questions about mobile internet. MobileMustHave Members gain exclusive access to content and special discounts. Click below to learn more.
Learn more
Why Choose Us
Pick the Mobile Internet Experts
The MobileMustHave Team has 50+ years of combined expertise in networking and Information Technology. We are RVers too, and we put each product we sell through rigorous testing in our own RV.
Learn More
In Case you missed it!
Mobile Internet Bundles
Take the guess work out of selecting components by hand. Our bundles combine everything you need into a single package at a discounted bundle price.
Take me to them
Total 5 star reviews: 2
Total 4 star reviews: 0
Total 3 star reviews: 0
Total 2 star reviews: 0
Total 1 star reviews: 1
67%
would recommend this product
Reviewing

Mobile Mark LTMWG 942 7-in-1 Antenna

I do not recommend this product

POOR CUSTOMER SERVICE

The antenna arrived on time. I didn't get the right antenna. I have called and left messages at least 5 x over the last week and a half and I still haven't received a call back.

Reviewing

Mobile Mark LTMWG 942 7-in-1 Antenna

Well worth the money

If you want rock solid connection, this antenna really is the way to go. We have been using it for a week after giving the smaller antennas that come with our pepwave a try and the difference is huge. The area that we can connect to our wifi has greatly increased the cellular signal is more easily accessible. We are currently in the woods in a small town and have had several storms come through and havent even seen a dip in our download speeds. This antenna is far better than I expected it to be making a 5 star review the only logical option.

Reviewing

Mobile Mark LTMWG 942 7-in-1 Antenna

Great Antenna

Full bars in places my phone barely works.
Reviews Loaded
Reviews Added