Note this item must be purchase with an HD1/HD2 Dome for discounted pricing. Orders without HD Dome will be refunded.
Use the SIM Injector to add another 8 SIM cards to your deployment, giving you the ability to connect to multiple carriers and ensuring that your connection remains unbreakable. The SIM Injector is capable of PoE output, so you don't need to add another PoE switch to your deployment.
In addition to adding SIM capacity, the SIM Injector also adds 100 meters of flexibility between the Router and the SIM cards, enabling you to place the cellular router anywhere you want without worrying about changing SIM cards.
This is designed to be used with the Peplink HD1/HD2 Dome. This way all sim cards are power are managed at the SIM injector and only an ethernet cable needs to be run to the HD1/HD2 Dome directly. The advantage the Dome and Sim Injector have over other Peplink and antenna set up is that the antennas and the modem are together in the Dome. This means there are no long antenna cables with loss. This can greatly simplify your install. Where you needed 4 thick cables to run the antenna signal down, now you just can manage with one ethernet cable and almost no delay or loss of signal. This cable can be run to up to 100 feet and still provide power and virtual sim cards to the HD1 Dome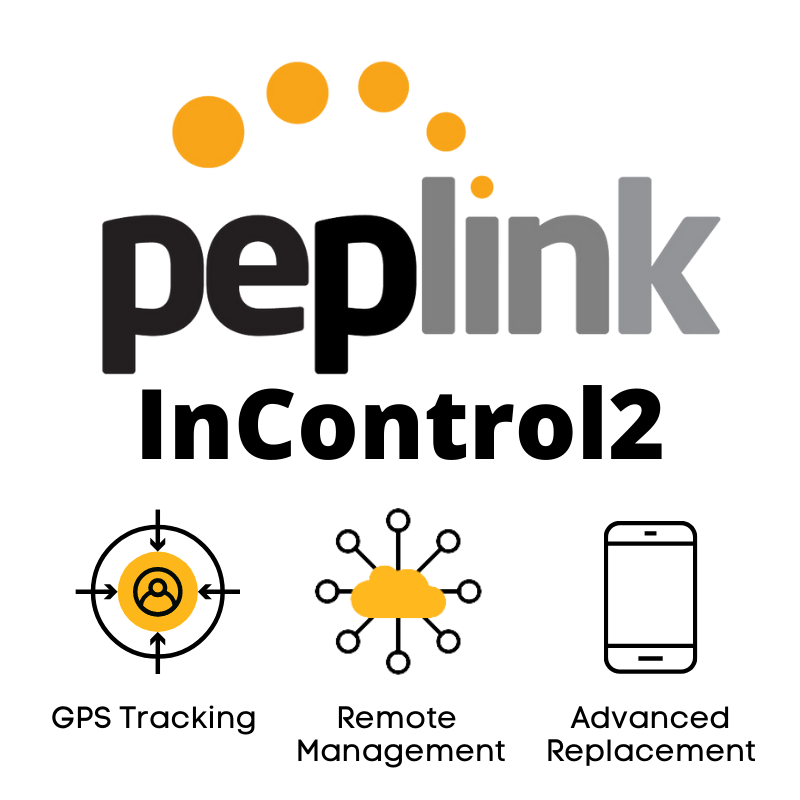 InControl2
InControl2 is Peplink's cloud-based endpoint management system. When connected to your devices, it aggregates data to generate useful reports on all aspects of your network. On a single screen, you can push configurations to any and all of your endpoints. If you need to dig deeper, you can remotely access the web admin of any device on your network.
For most MobileMustHave customers this features is not required, but it does allow your device to be accessible to you via the cloud. This can be an advantage if you would like to remotely control your device, track your vehicles location (if GPS is enabled), and allow support access to remote in (when permission is granted).
InControl2 is included with all router purchases for 1-Year and is included with EssentialCare and PrimeCare Warranty Renewal Options.
Consultations
Talk with an Expert
Our team of mobile experts are available to help you pick the right solution. Click below to schedule a phone consultation.
Schedule a Consultation
Membership
Join & Save 10%
Access discount pricing not available to the public and save on your first purchase. Exclusive educational content and forum access. Earn 2x reward points on all purchases good towards future items. Membership can pay for itself with your first purchase.
Membership Options
Price Match Guarantee
Never pay more at MobileMustHave; we will match any advertised, authorized, in-stock, price or give you a $50.00 store credit. Terms and Conditions apply.
Education
Want to know even more?
We have partnered with the Mobile Internet Resource Center to help education and answer all your questions about mobile internet. MobileMustHave Members gain exclusive access to content and special discounts. Click below to learn more.
Learn more
Why Choose Us
Pick the Mobile Internet Experts
The MobileMustHave Team has 50+ years of combined expertise in networking and Information Technology. We are RVers too, and we put each product we sell through rigorous testing in our own RV.
Learn More
In Case you missed it!
Mobile Internet Bundles
Take the guess work out of selecting components by hand. Our bundles combine everything you need into a single package at a discounted bundle price.
Take me to them