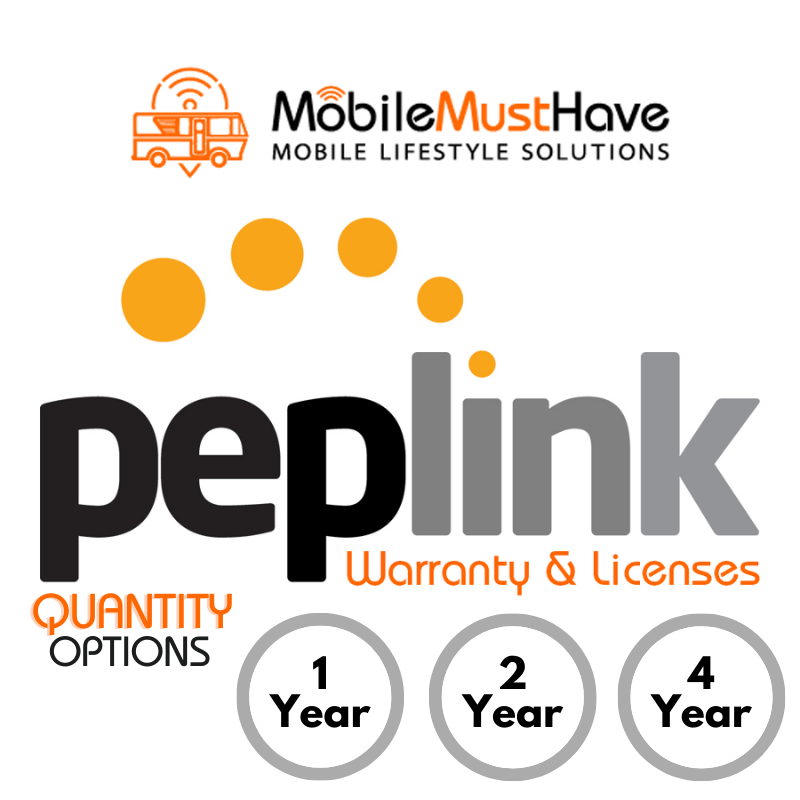 ---
Incontrol2 & Warranty Options for Pepwave Max Br1 MK2 LTE-A Series devices.
There are 3 types of ongoing subscriptions and warranty services available for Pepwave devices.
Incontrol2 License - Provides access to Incontrol2 cloud management only
EssentialCare - Provices Incontrol2 cloud management, software updates, firmware updates, factory warranty for replacement of defective device once defective unit is received by Peplink
SmartCare -

Provices Incontrol2 cloud management, software updates, firmware updates, factory warranty for replacement of defective device with advanced replacement shipping of replacement device before defective unit is received back. Refundable deposit may be required for advanced replacement.
1 Year of EssentialCare Included!
Peplink EssentialCare optional extended warranty packages provide customers with Incontrol2 cloud management licensing, software updates, firmware updates, and extended factory warranty support for devices deemed defective by Peplink's warranty support department. EssentialCare is a cost effective and convenient way to extend the warranty coverage of your Peplink device for customers who do not need advanced replacement support. Note that EssentialCare cannot be purchased for devices outside of existing warranty. Warranty and license purchases are non-refundable due to manufacturer policies.
1-Year EssentialCare included with new Peplink device purchase
Technical Support via Support Ticket via Peplink
Firmware Upgrades
InControl2 Cloud Management
Hardware Warranty (requires device to be returned to Peplink prior to replacement being sent out)
Consultations
Talk with an Expert
Our team of mobile experts are available to help you pick the right solution. Click below to schedule a phone consultation.
Schedule a Consultation
Membership
Join & Save 10%
Access discount pricing not available to the public and save on your first purchase. Exclusive educational content and forum access. Earn 2x reward points on all purchases good towards future items. Membership can pay for itself with your first purchase.
Membership Options
Price Match Guarantee
Never pay more at MobileMustHave; we will match any advertised, authorized, in-stock, price or give you a $50.00 store credit. Terms and Conditions apply.
Education
Want to know even more?
We have partnered with the Mobile Internet Resource Center to help education and answer all your questions about mobile internet. MobileMustHave Members gain exclusive access to content and special discounts. Click below to learn more.
Learn more
Why Choose Us
Pick the Mobile Internet Experts
The MobileMustHave Team has 50+ years of combined expertise in networking and Information Technology. We are RVers too, and we put each product we sell through rigorous testing in our own RV.
Learn More
In Case you missed it!
Mobile Internet Bundles
Take the guess work out of selecting components by hand. Our bundles combine everything you need into a single package at a discounted bundle price.
Take me to them