The Balance 310X uses all GE ports and offers a routing throughput of 2.5 Gbps. It provides all the connectivity needed to support small and medium sized business operations.
2x GE WAN ports
9x GE LAN ports
1x LTE-A Pro modem (America/FirstNet/CAT-12)
2.5Gbps Router Throughput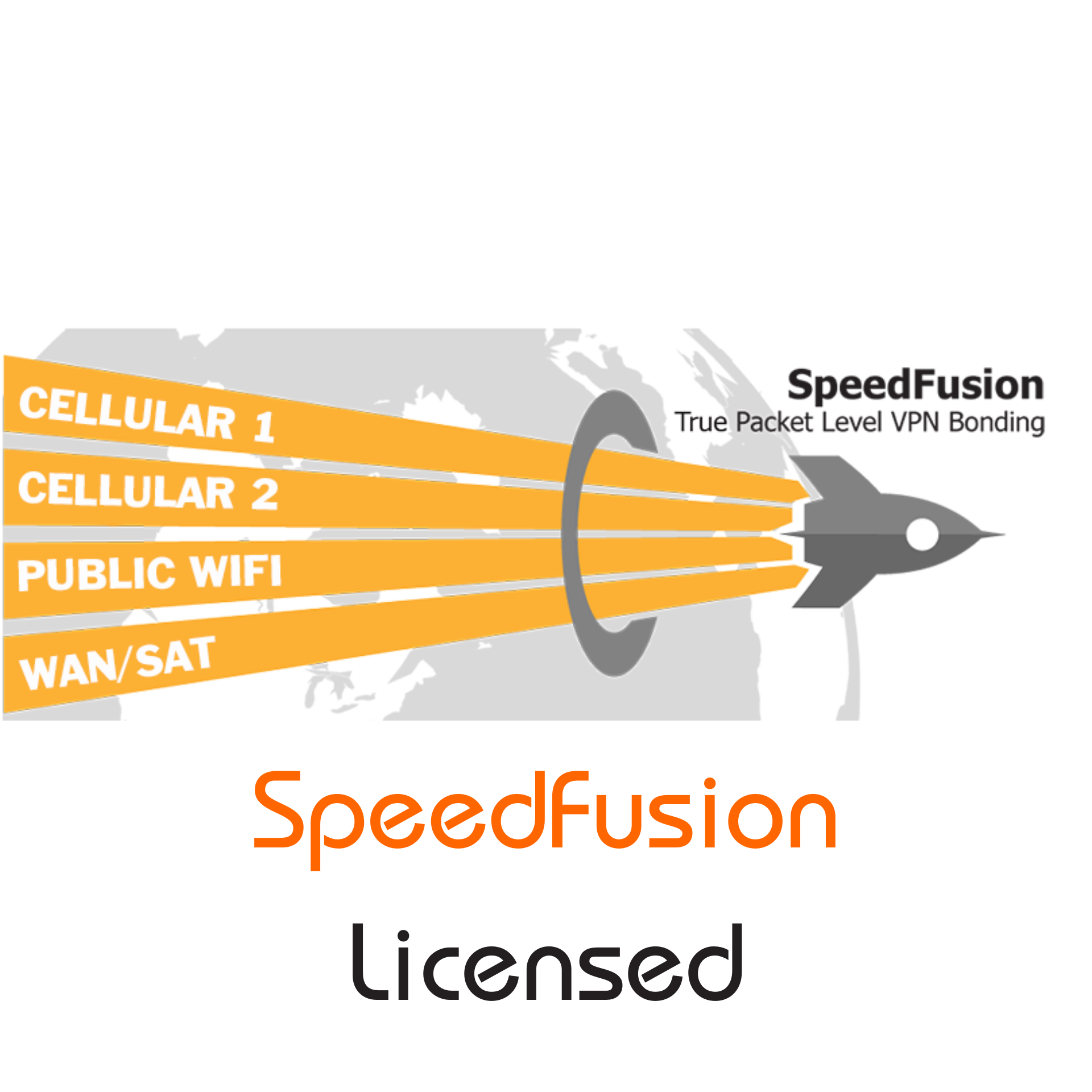 SpeedFusion Licensed
This device is licensed for SpeedFusion access. SpeedFusion is Peplink's proprietary WAN bonding solution that can bond multiple internet connections together into a single, more resilient connection for added connection reliability. SpeedFusion-capable devices create a VPN tunnel that allows multiple internet connections to act as a single connection. SpeedFusion supports WAN-Smoothing, a technology that helps to prevent packet loss which is typically the cause for unstable internet connections. In order to utilize SpeedFusion you must either host your own SpeedFusion instance at a secondary location/datacenter or use Peplink's SpeedFusion Cloud service which is available for an additional monthly subscription fee. This device includes data allotment for SpeedFusion cloud transfer at up to 100Mbps per second (amount of data will change based on the hardware). For more information on SpeedFusion and SpeedFusion Cloud, please reach out to us below.
FirstNet Ready
This device is FirstNet Ready! FirstNet is the nationwide public safety communications platform dedicated to America's first responders. Being built with AT&T, in public-private partnership with the FirstNet Authority, FirstNet utilizes Band-14, which is reserved for public safety but is also being marketed as available to the public for additional bandwidth capacity. In testing Band-14 has been made available during non-emergency situations to the public to provide additional bandwidth and coverages to customers who have a modem that supports FirstNet's Band-14. Not all modems that support Band-14 are "FirstNet Certified" however they typically can connect to Band-14 in most areas. Information on FirstNet certifications can be found on Specification sheets located on the Documentation Tab. Additional information about FirstNet's use and technology can be found in this article from our friends at the RV Mobile Internet Resource Center.
Full Specifications
Looking for the full specifications on this product? Not to worry, they are located above under the "Documentation" Tab just above by the product description.
Consultations
Talk with an Expert
Our team of mobile experts are available to help you pick the right solution. Click below to schedule a phone consultation.
Schedule a Consultation
Membership
Join & Save 10%
Access discount pricing not available to the public and save on your first purchase. Exclusive educational content and forum access. Earn 2x reward points on all purchases good towards future items. Membership can pay for itself with your first purchase.
Membership Options
Price Match Guarantee
Never pay more at MobileMustHave; we will match any advertised, authorized, in-stock, price or give you a $50.00 store credit. Terms and Conditions apply.
Education
Want to know even more?
We have partnered with the Mobile Internet Resource Center to help education and answer all your questions about mobile internet. MobileMustHave Members gain exclusive access to content and special discounts. Click below to learn more.
Learn more
Why Choose Us
Pick the Mobile Internet Experts
The MobileMustHave Team has 50+ years of combined expertise in networking and Information Technology. We are RVers too, and we put each product we sell through rigorous testing in our own RV.
Learn More
In Case you missed it!
Mobile Internet Bundles
Take the guess work out of selecting components by hand. Our bundles combine everything you need into a single package at a discounted bundle price.
Take me to them